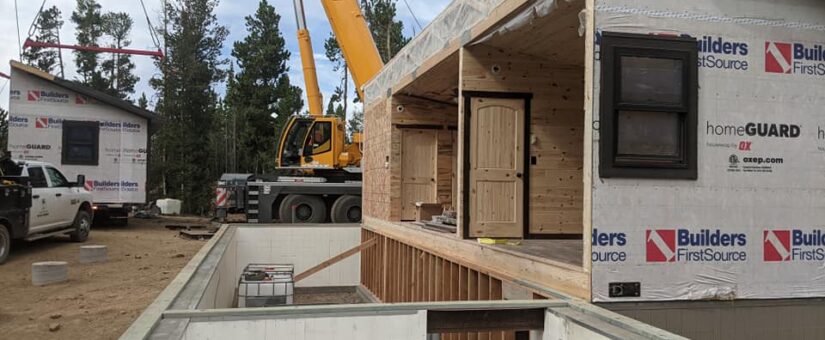 Construction Complete: Wind River
Posted by Natalie Moen
On May 17, 2022
0 Comments
THE DREAM
After purchasing land in 2015 in The Wind River Mountain Range in Western Wyoming, Trevor and Melissa started exploring different options for a cabin. They researched barndomoniums, container homes, yurts, geodesic domes, modular cabins, cabin kits, log homes and every other option that came their way.
They were ultimately trying to find the best balance for their situation between money and time. Trevor and Melissa have a young family and wanted to have a cabin on their property to begin making memories with their kids while they are still young.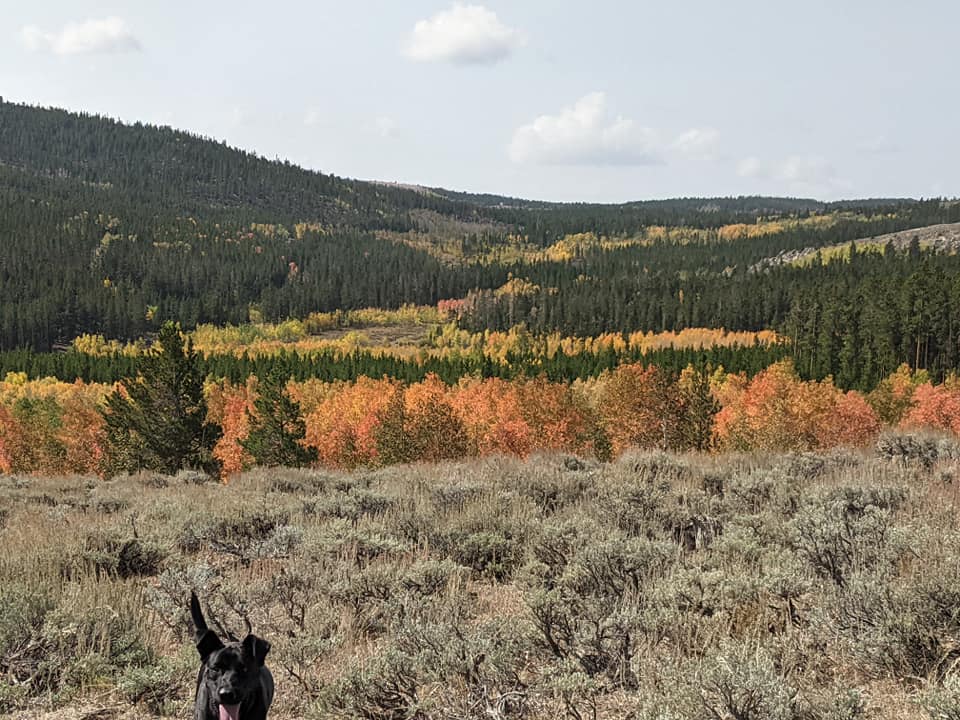 They spoke to several modular home companies and requested a site visit as the road into the property had some tight spaces and delivery was questionable. All the modular companies said they would do a site visit but never actually followed through with scheduling a visit or showing up leaving them very discouraged.
On an anniversary trip to Lander, Wyoming in 2019 they saw a tiny home at a local Montana Shed Center dealer. In looking at the tiny home, they liked several of the finishes and the idea of having a completed cabin. They ultimately decided the tiny home would not fit their growing family.
Through some research, they discovered MSC was a sister company to Riverside Cabins. They spoke with Nate, who was more than willing to figure out if a modular cabin was going to be an option.
SITE VISIT
Nate scheduled a sight visit and agreed to travel 10 hours to their property to conduct the site visit just to see if a cabin would be deliverable.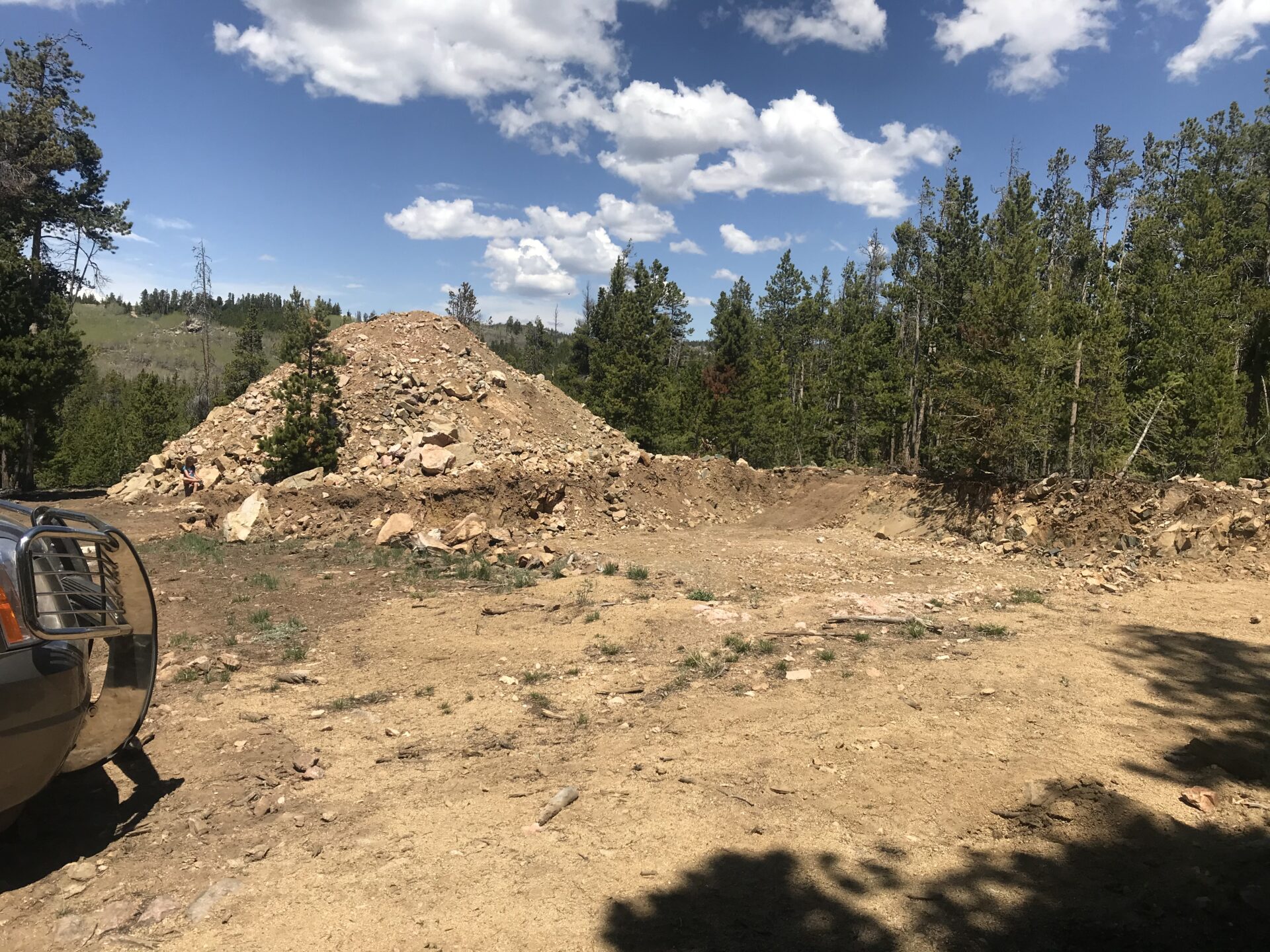 In concluding the sight visit, Nate advised he was 98% confident that Riverside Cabins could deliver a modular cabin to the site but wanted to verify it with his delivery driver prior to fully committing to a delivery. He took photos and measurements of the choke points on the roadway before returning to Montana.
Approximately 2 days later, Trevor received confirmation from Nate that Riverside Cabins was willing to commit to delivering a cabin to their site.
After searching the RSC webpage and making some initial decisions on what floor plan they liked, they talked with Nate about pricing. Trevor and Melissa then scheduled a trip to Great Falls, MT to visit the facility and see in person, some of the finishes and the quality of the cabins.
In June of 2020, they traveled to Montana and met with Nate. He was extremely accommodating and provided customizable options to fit their wants and needs.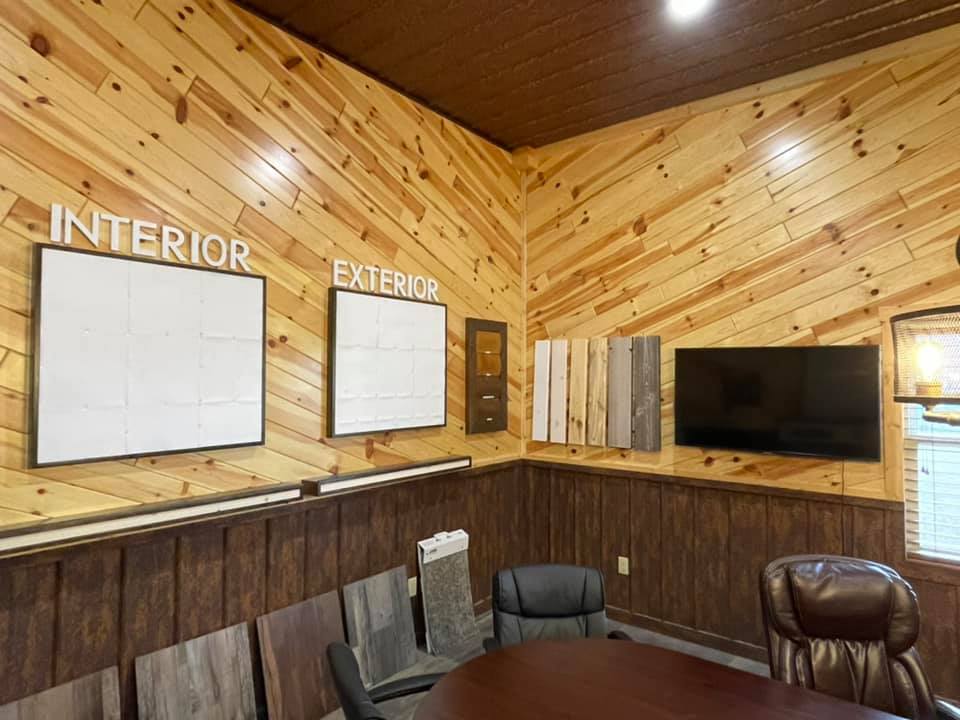 "We were very impressed with the professionalism and quality". – Trevor
In concluding their trip to Montana, they had not committed to anything but were provided with cost estimates and a clear vision of what the process would look like.
In September of 2020 after several conversations between Trevor and Melissa, they paid a down payment and locked in their build date.
Due to the remote location and the wonderful Wyoming winters, their delivery was scheduled for July 2021.
Nate stayed in touch throughout the entire winter and was continually available if they had any questions while they anxiously awaited their future cabin.
SITE PREP
When summer of 2021 finally arrived, the site prep began. Trevor used ICF Blocks for the foundation. Throughout June and the beginning of July, it was rather hectic as they had dirt work to do and concrete trucks to coordinate with.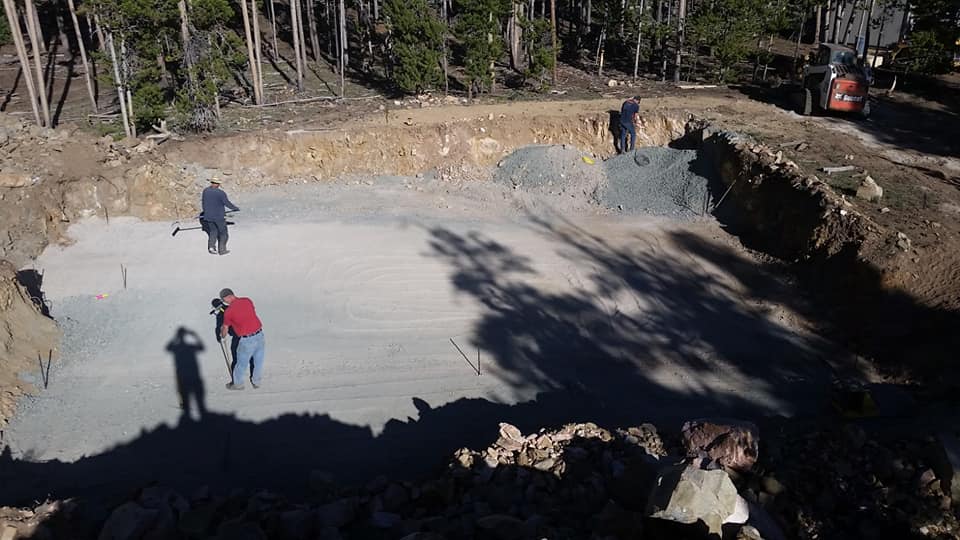 "Riverside Cabins was always available if we had any questions about ensuring the foundation was going to match the building". 
Their site had plenty of rocks and required jack hammers and hammer drills to fight through the rocks.
Nate continually sent progress pictures as the building progressed and was always available to answer questions and address concerns.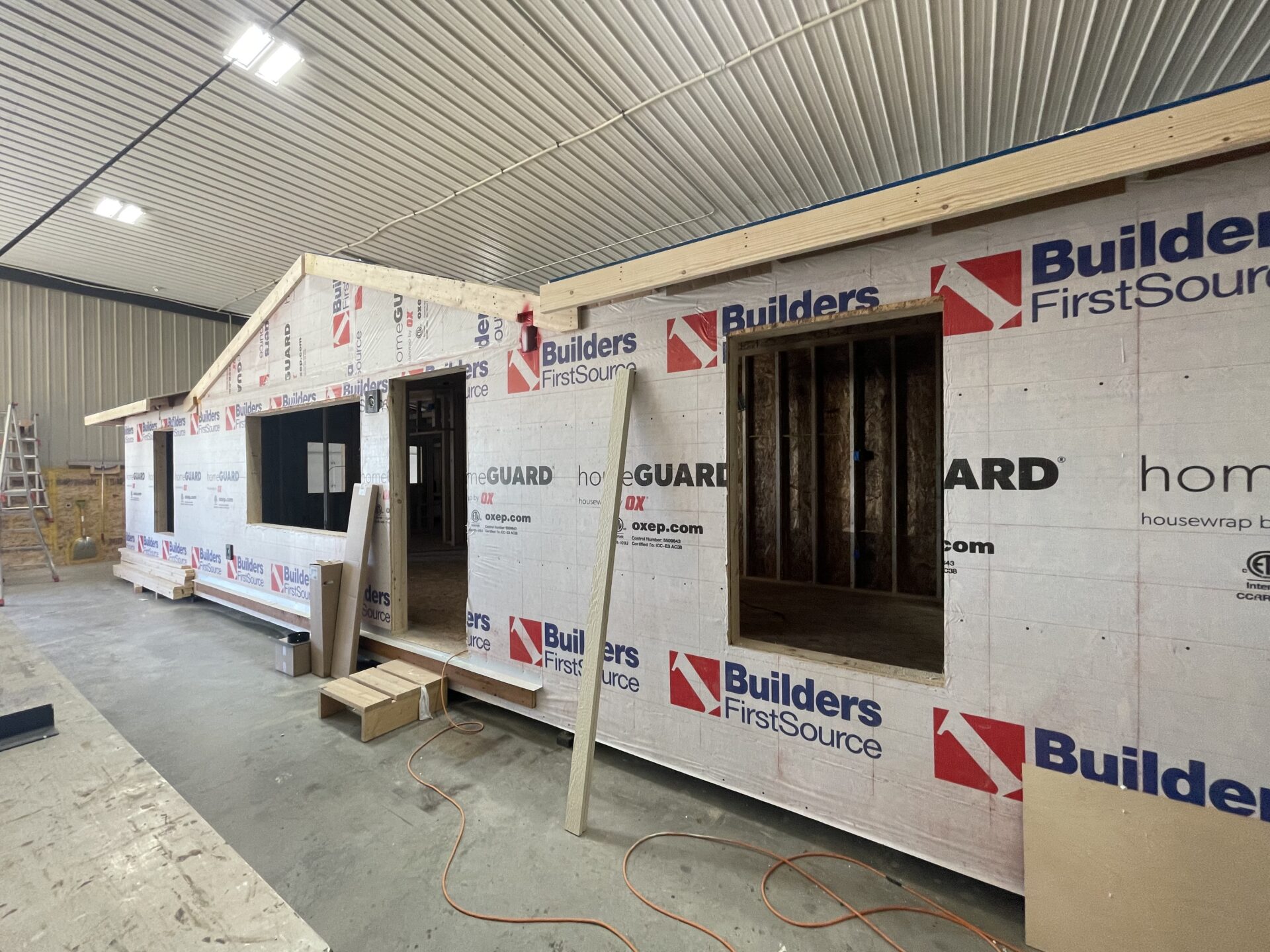 "At one point we requested an extra outlet in the great room. Without any hesitation, Nate accommodated our request and had the outlet placed where we requested it.  This is a tiny example of how accommodating Riverside Cabins was throughout this process". – Trevor
DELIVERY DAY
The delivery went exactly as planned. The first piece of the cabin arrived on a Friday. Then the second piece, along with the crew and the crane company arrived on the following Monday.
It was a 10-hour drive between the locations in a personal vehicle not hauling a cabin. The driver was very kind and cautious not to damage the cabin nor any of trees and vegetation.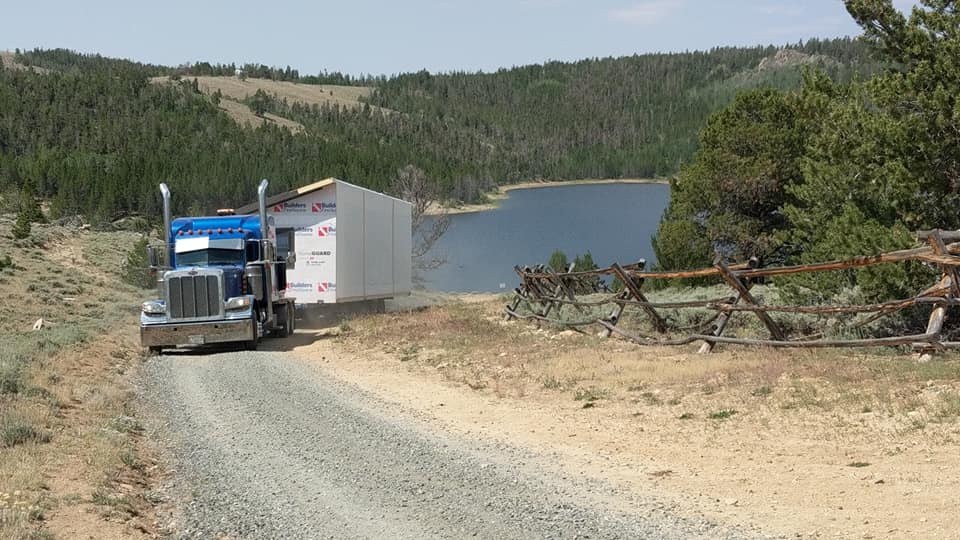 Upon arrival of the cabin and crews, everybody was extremely personable. The different contactors worked well together and got the cabin set in a half day.
After the cabin was set, the crew stayed on site and began to complete the finish work.  The crew was very professional and seemed to truly care about Trevor and Melissa's piece of mind.
"One of the crew members actually brought his son and our kids ran around our property and made forts. Both of my kids still ask if they were going to come back and visit". – Trevor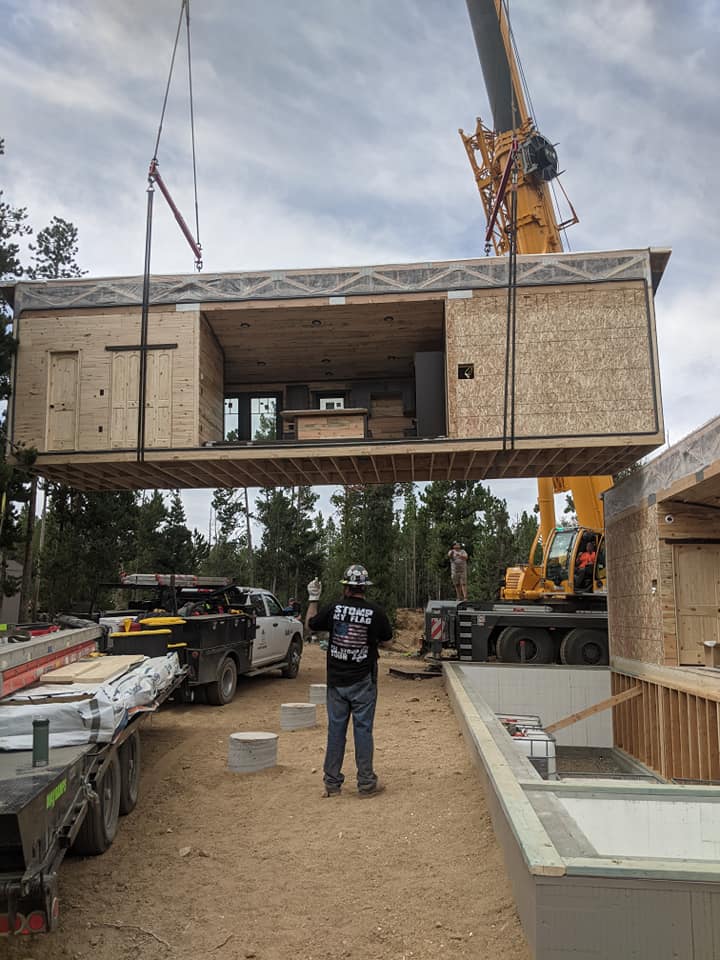 The RSC site crew was meticulous in making sure the finished product was perfect down to even staggering the floor pieces to ensure the same designs weren't touching each other on the flooring.
In a matter of 4 days, they went from having a concrete foundation in the ground, to a fully finished usable cabin. The crew finished the set-up process ahead of schedule as they put in 12-15-hour days while on site.
They would then commute approximately 45 minutes to the closest town where they would get a short night's sleep and be back on site first thing in the morning.
"Even though everyone was tired and exhausted, the crew was polite and courteous to myself and my family". – Trevor
Majority of the work was done by the end of the day on Thursday night. It would have been easy for the crew to do a halfhearted clean up and then leave, but they insisted on returning Friday morning to do a thorough clean up and final walk through to ensure everything was completed correctly.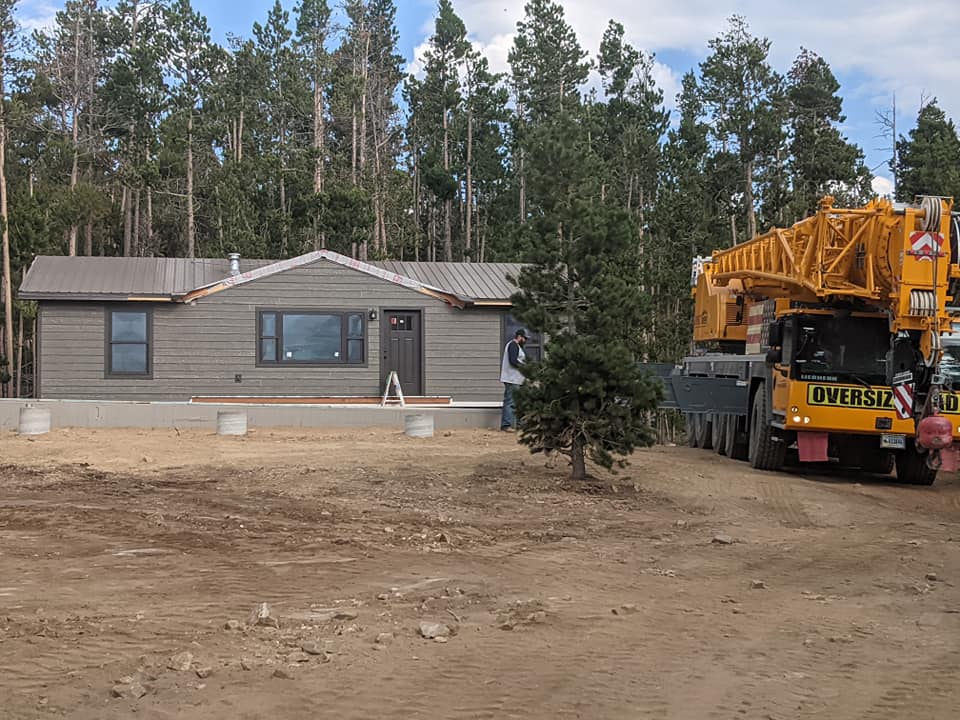 Then they loaded up and began their trek back to Montana so they could start the next job. They didn't take any short cuts as they even checked to ensure all the cabinet doors and drawers all shut perfectly prior to giving them the keys.
"The cleanup was fantastic. If I didn't know better, I wouldn't have guessed that it was a construction site the day before as all the trash was picked up and I was given the option to keep the extra building materials." – Trevor
The crew then neatly stacked and organized all the extra materials as I requested to keep the extra materials for other projects.
FINAL WORDS
"Words can't express how grateful we are to Riverside Cabins for their assistance and professionalism in this process to make our dream become a reality".  – Trevor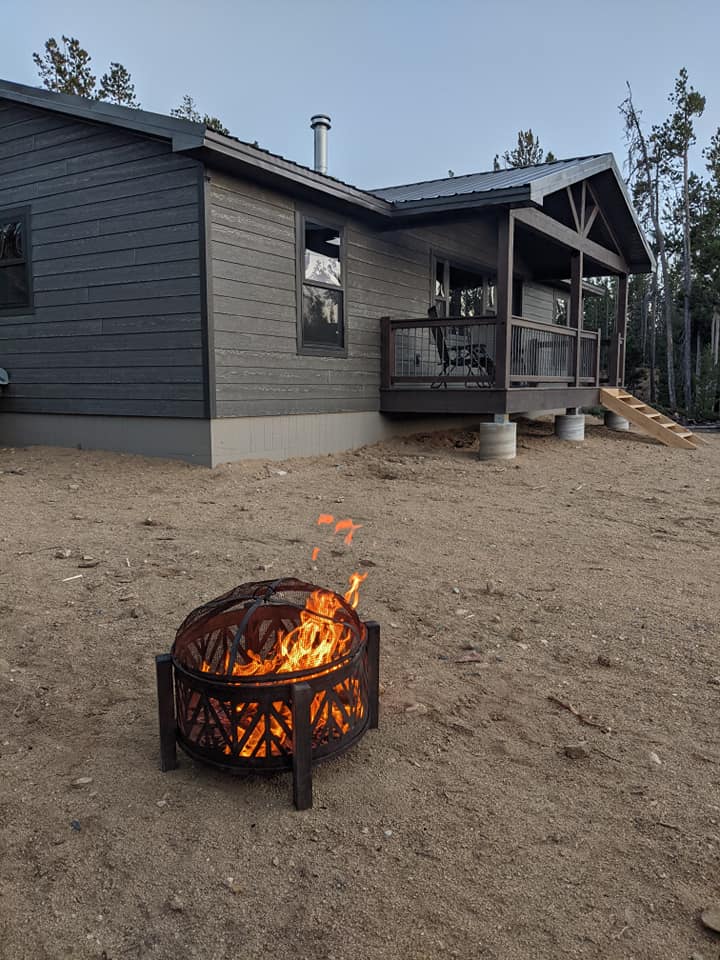 "From start to finish, our experience has been outstanding. Looking back, I can't think of a negative interaction or disappointment in the process. If your looking for a company to build your cabin or any structure for that matter my wife and I would highly recommend going with Riverside Cabins." – Trevor
Thank you, Riverside Cabins, for a great experience in building our family cabin. – Trevor