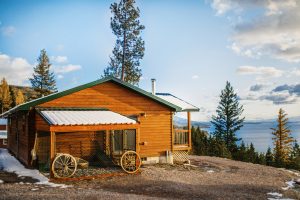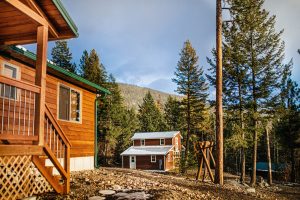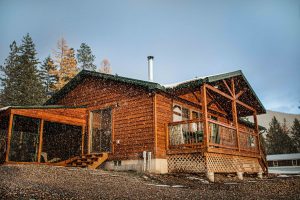 What is a modular cabin? Modular, manufactured, mobile, what is the difference? Are they all the same? 
All three types are the same in that they are all built in one location and moved to another, but how they are built is what sets them apart, and there is a fair bit of difference here.
Factory built buildings have been around since 1764. One of the first manufactured buildings was built in London, shipped to Cape Ann, MA then reassembled. 
During World War 2, the Quonset hut was designed by a team of naval architects and engineers at the Quonset point naval air station. Designed as a solution to prefabricated housing that could be built offsite, they transported and erected them rapidly to house military personnel.
The mobile home became very popular during the 60's and 70's as an affordable form of housing. Unfortunately, there was very little regulation and many companies built sub-standard, unsafe housing.
In 1976, the government stepped in with a base set of standards that had to be met, the "HUD Manufactured Home Construction and Safety Standards", usually called "the HUD Code". The manufactured (mobile) home built today is using these HUD standards. These codes assure a home meets certain safety and comfort standards yet still allows for affordable housing. The manufactured home built to the HUD codes is a good building, but these are bare minimum standards, the manufactured home does not meet the same stringent regulation of a site-built home. 
Riverside Cabins build
s
m
odular buildings
.
A modular cabin is built to the latest International Residential Codes (IRC). These are the highest standards of building practices for framing, wiring, plumbing and energy. This is where the differences show up between a Modular and Manufactured home and they are significant differences.  A modular home, like a site-built home is constructed to the same state, local and regional codes and regulations.  
Our cabins and homes are built out of the weather and to the highest standards. They are inspected by the state, then set on your foundation. Learn more about the advantages to owning a modular cabin by clicking here.
Do not mistake modular homes for manufactured or mobile homes due to both being built in a factory setting.
Riverside Cabins appraise the same as on-site built counterparts.
Riverside Cabins can be built on crawl spaces, basements, or pilings (post and beam) foundations.
Riverside Cabins are considered permanent structures.
Riverside Cabins are considered a form of green building, an efficient use of materials.
Home loans for Riverside Cabins are the same as site-built homes.
All Riverside Cabins are built to the climate demands of your area.
Hours of Operation:
Monday – Friday, 8AM – 4:30PM
Connect
rsc.sales@riversidecabinsllc.com
46 12th Street, Vaughn MT 59487